Discover Skopelos
Skopelos is the largest of the islands of the Northern Sporades complex. Chora, its capital, which is amphitheatrically built around the medieval Castle and hosts numerous churches and religious monuments. Chora has been classified as a protected settlement since 1978, due to its architectural value. The island has three main ports: Skopelos, Agnontas and Glossa. The most interesting settlements are Glossa with the port of Loutraki, Palio Klima and Neo Klima (Elios) , while there are also several small rural settlements.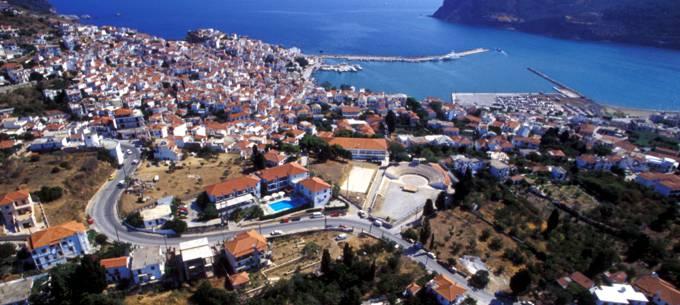 In Chora one can visit the Venetian Castle of the Gyzis, the old bishop mansion - a Venetian building complex including a single-aisled basilica, which was intended to be the seat of the Bishop of Skopelos, but remained incomplete due to the raids of the pirate Barbarossa in 1538 - , the Folklore Museum and the Ancient Asklepeion in the location of Ampeliki. There are several monasteries on the island, such as the monastery of Evangelistria, with an old Catholic church and a strong fortress enclosure (renovated in 1712), the monastery of Sotiras, the Agios Prodromos monastery and the Taxiarchon Monastery in Vato.

Other important archaeological monuments of Skopelos are the carved tombs at Sendoukia, on Karya mountain. These are four carved tombs, probably from the Roman or early Christian period, in a position with a breathtaking view.

In the remarkable archaeological site on the Staphylos peninsula, the oldest signs of habitation on the island so far have been preserved, while a Mycynaean tomb containing a sword with a golden handle has also been found. In the area of ​​Glossa are the Pyrgoi, which were ancient farmhouses, to the right of the port of Chora is the Asklipieion and the healing center of ancient Peparithos. In Panormos, ancient walls are preserved, while in Loutraki there are remains of Roman baths.
In Skopelos the hiker can choose between five interesting hikes - three of which are circular - from low to moderate difficulty, with a length of about < b>40 km. These routes lead to archaeological sites of the island and also connect important monasteries with each other, e.g. the Round of the monasteries in the east of Chora.