Mt Trapezitsa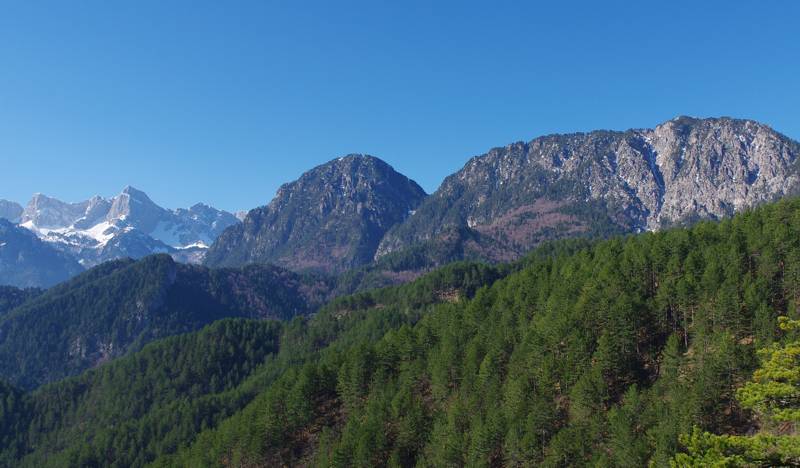 Mt Trapezitsa is a single-peak solid limestone massif, rising to the east of the Aoos ravine. Together with the eastward precipices of Mt Tymfi, it forms the narrowest and most abrupt part of the Aoos valley, essentially the Aoos gorge, before the river spreads to the plain of Konitsa.
To the east, Mt Trapezitsa is connected to Mt Smolikas by the Steno Col, the unique viable pass where the main road from Konitsa to the villages Elefthero, Palioseli, Pades and Armata passes.

No attempts of human inhabitaion were are visible on the arid and steep slopes of Trapezitsa: the only settlement that is related to Mt Trapezitsa is the town of Konitsa, which is built on the northern foot of the mountain, right next to the gate of Aoos river, and the village Pigi in the northern foothills.
The efforts to harvest the nearby Konitsa yet hard-to-reach forests of Mt Trapezitsa, gave the opportunity to open some very good paths. Nowadays, these paths could be included into three main hiking routes, leading either to the highest point of the mountain, or to the second one, Raidovouni. As these paths are eroded by heavy rains, they often present local difficulties.

topoguide greece
Mt Smolikas topoguide
Detailed descriptions, metrics and photos of the trails of Mt Trapezitsa will be included in the
Mt Smolikas topoguide
hiking guide, curently under development.
Mt Smolikas topoguide
will be available for
Android
devices as one of dozens of regions of Greece available as an in-app purchase by the application
topoguide Greece
.
Mt Smolikas topoguide
will also be available as an in-app purchase for
iOS (iPhone και iPad)
devices as one of the regions offered in the hiking application
Topoguide Greece
.