Discover Kimolos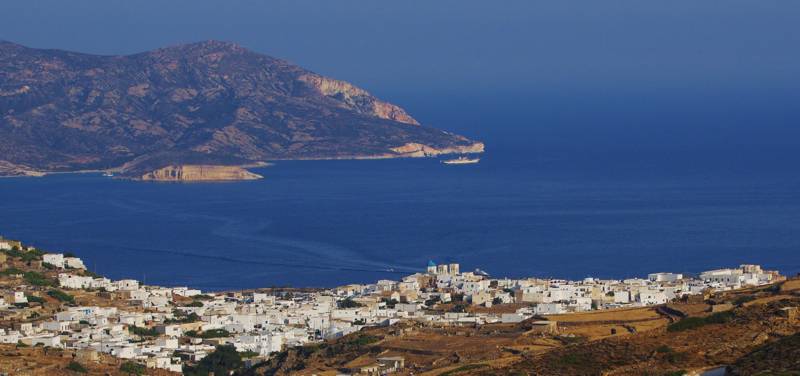 One of the smaller inhabited islands of the Cyclades, Kimolos has an area of 37 sq.km. and just 900 residents (2011 census). It is very close to Milos, with which it is connected by an open ferry (Pollonia-Psathi trip takes 30 minutes) and is facing the uninhabited Polyegos.

Almost all the population lives in Chorio (= the Village) and a few in Psathi, the port of the island. Chorio is a large settlement, spread on the wavy relief of the small peak of Xaplovouni. The unique paved road reaches the edge of the settlement and the houses are serviced by a labyrinthine network of pathways, run on foot or on donkeys, which are quite abundant on the island. Chorio combines almost all the infrastructure and services of a small town.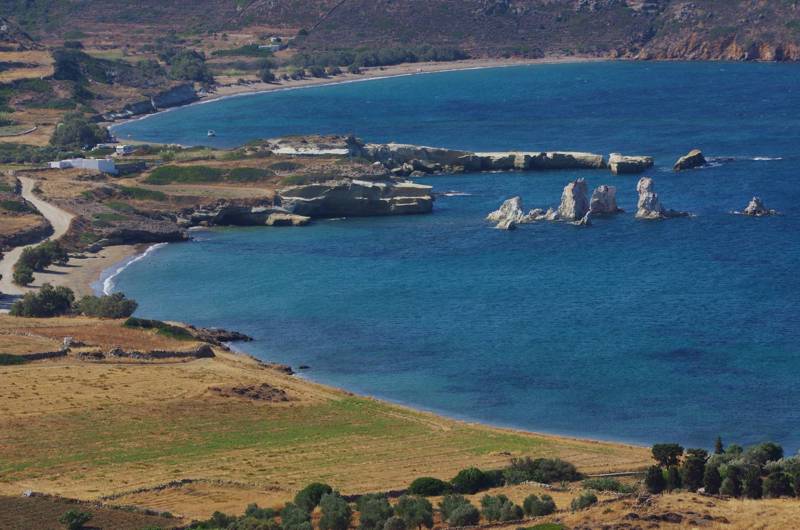 The rest of the island is virtually uninhabited and the road network is rudimentary. The small tourist area of Kimolos is summed up around the coastal zone from Alyki to Bonatsa and Kalamitsi, essentially a long beach with few accommodation and catering facilities, while a more exotic touch is reserved to the few who dare to go ... 2-3 kilometers to the west, up to Elliniko and Mavrospilia beaches.
The east coast has some infrastructure, while its northern beaches, Monasteries and Vromolimni, are more secluded places.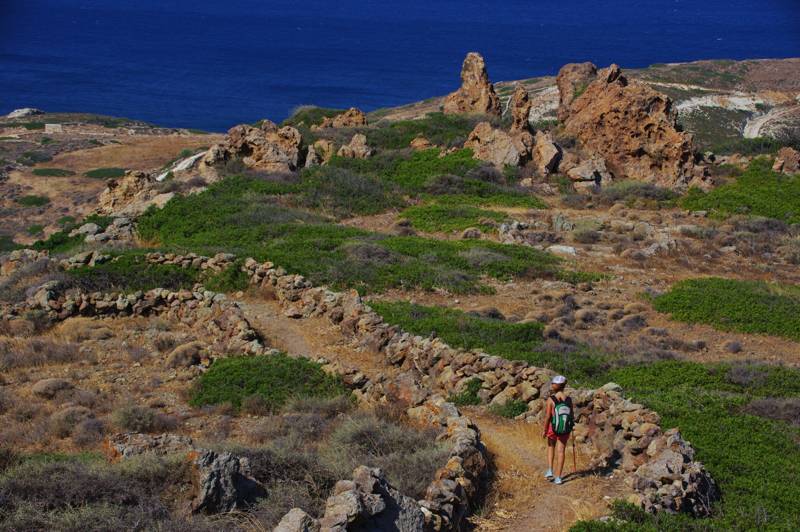 With the exception of the elements of historic and traditional architecture found in Chorio and the few archaeological sites, Kimolos has no other easy tourist attractions. On the contrary, it is rich in elements asking for a deeper reading, such as innumerable geological treasures, the exuberantly worked rural landscape of the northern wilderness and the unique nature.
All of these hidden treasures are accessed exclusively by hiking. Seven interesting hiking routes have recently been signposted and waymarked, leading the visitor to the most impressive places of a less known Kimolos.
A hiking guide of topoguide app series, dedicated to Kimolos, is under development. However, all trails of Kimolos, icluding the 7 routes presented above, are already included in the cartographic application topoguide Greece, available for both Android and iOS (iPhone και iPad) devices.