Hiking on Western Pelion
In Western Pelion area, more than 25 interesting hiking routes have been signposted.
Hiking routes around Agios Lavrentios, Agios Georgios and Kato Gatzea
Agios Georgios-Exagathia refuge 3.8km / 2h
Drakia-Agios Lavrentios 3.7km / 1h10'
Ano Lechonia-Agios Georgios 4.8km / 2h
Agios Vlassios-Ano Lechonia via Paleokastro 3.3km / 1h10'
Agios Vlassios-Ano Lechonia via Strofilos 3km / 1h10'
Agria-Agios Lavrentios 6.8km / 2h45'
Agios Lavrentios-Chania 10.2km / 5h30'
Agios Lavrentios-Agios Vlassios 4.9km / 1h45'
Agios Lavrentios-Agios Georgios 5.7km / 2h10'
Agios Georgios-Pinakates 4.1km / 1h30'
Agios Georgios-Kato Gatzea 5.7km / 2h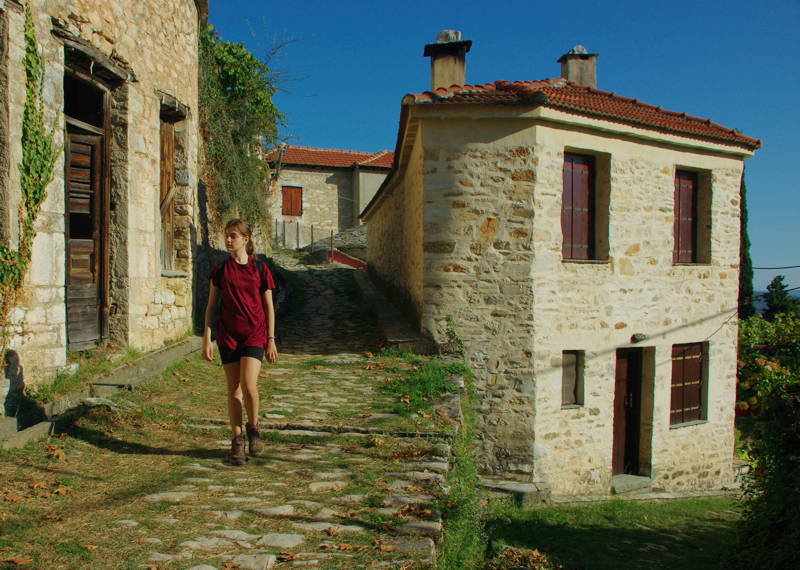 Hiking routes around Milies
Milies-Tsagarada 10.6km / 4h45'
Milies-Taxiarches cave-church 1.8km / 0h45
Milies-Ταξιάρχες-Vyzitsa 3km / 1h30
Milies-Νεοχώρι 10.8km / 4h10'
Milies-Afetes
Milies-Lambinou 6.9km / 2h30'
Milies-Kala Nera via the Chiron cave 4.8km / 1h45'
Milies-Kala Nera via Panagia chapel 4.1km / 1h30'
Milies-Kala Nera 4.8km / 1h30'
Milies-Koropi 5.4km / 1h30'
Koropi-Afetes 5.5km / 1h45'
Vyzitsa-Milies 2.3km / 0h45'
Vyzitsa-Kala Nera 4.5km / 1h30'
Pinakates-Vyzitsa 2.2km / 0h45'
Pinakates-Kala Nera 4.7km / 1h45'
The most comprehensive hiking guide for hiking in Western Pelion area is the application Western Pelion topoguide, available for Android, as well as for iOS devices.

Western Pelion topoguide is a digital guide for hiking and touring and offers active guidance and usefyl information for 24 hiking routes.