Hiking in Anafi
With a surface area of 38 sq.km and a coastline of 38 km, Anafi is one of the smallest inhabited islands of Cyclades. A series of small peaks, with the tallest being Vigla (582m), create a diverse relief which, despite of the low altitude, has strong mountainous landscape elements. The prominent feature of Anafi's landscape is the limestone massif of Kalamos (463 m), in the SE part of the island that drops vertically into the sea. The shoreline is marked by many small gulfs. The only port of the island is located on the leeward south coast and is protected by a natural arm.
A very good hiking path leads from Zoodochos Pigi Monastery to the top of Kalamos, where is located Panagia Kalamiotissa, an old Monastery which was built in 1715, next to a medieval fortress. On the north side of Kalamos is located the interesting cave of Drakontospilo.

The city (chora) of Anafi is a typical Cycladic settlement, rallied on the fortified side of a rocky peak, with small white houses. A network of cobbled alleys leads to the Venetian Castle the original core of the settlement.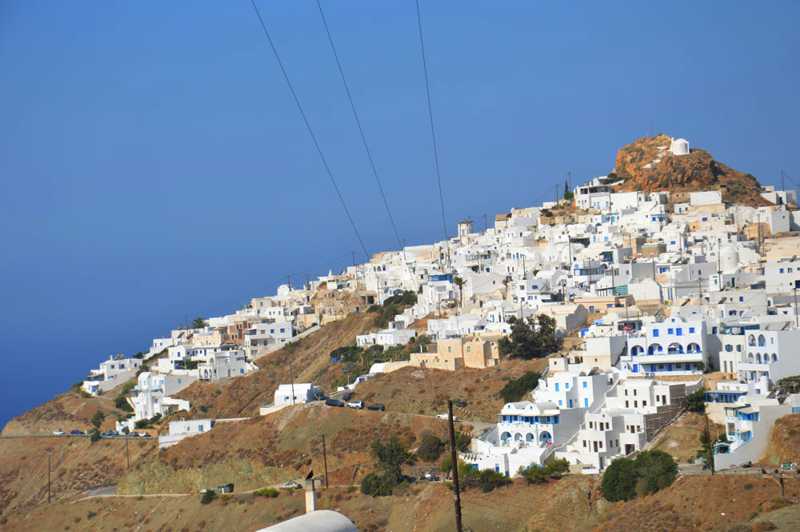 In the relatively virgin and authentic landscape of Anafi, many of the old paths were preserved several of which are still in use.
A hiking guide of topoguide app series, dedicated to Anafi, is under development. However, all trails are already included in the cartographic application topoguide Greece, available for both Android and iOS (iPhone και iPad) devices.