Hiking on Folegandros
Folegandros is a mountainous island, a rock in the middle of the sea with steep coasts, exposed in the Northern winds of the Aegean Sea. It is also called Polykandros, probably a paraphrase of the ancient name Polyandros.
Its coasts are precipitous and form several capes, such as Kastellos, Kyparissi at the northern part, Aspropounta at SW. There are no spring waters and water supply needs are covered by cisterns storing rainwater.
The main settlements of the island are Chora, built on the eastern side, on a plateau at 200 m elevation, Ano Meria northerly, Karavostasis, the small port of the island at SW and Agali.

Chora, nestled in the base of a rock, has a complicated network of stone-paved roads and alleys, squares, but also Kastro (castle), the Medieval settlement, the old part of Chora, the northern side of which is built on the rim of a 210 m cliff.

Ano Meria is a traditional rural settlement with houses lying at a distance between them and forming the so-called "Themonies". The main attractions of the island are Panagia, the most significant church of Folegandros, dedicated to the Assumption of Virgin Mary, Kastro and Chrisospilia, an imposing cave in the NE side of the island, ten meters above the sea.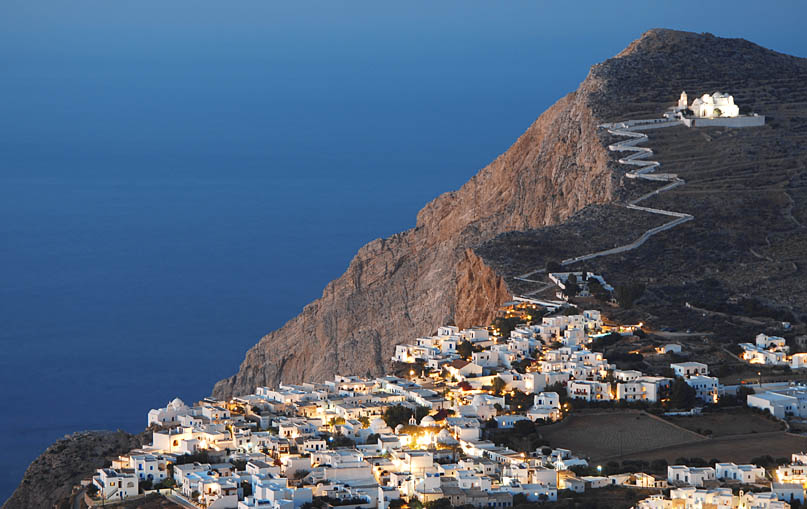 The history of Folegandros follows the common history of Cyclades, both in antiquity and the Roman times, when it had been an exile place, but also during Frankish and Ottoman dominance. It was united with Greece in 1828 and lived in the obscurity of the small island of the archipelago. During the dictatorship of Metaxas (1930s') it became again an exile place.
Despite its restricted area, Folegandros provides rich and interesting experiences for the hiker who decides to roam around the well-maintained network of the old stone-paved roads and paths. All in all, 6 interesting hikes, with small to medium difficulty, cross the island forming a trail network of more than 30 km and interconnecting its large unities: Chora with Karavostasis port, Chora with Agali settlement, Agali with Paliothemonies, Paliothemonies with Taxiarchis, Taxiarchis with Ano Meria and finally Ano Meria with Chora.
A hiking guide of topoguide app series, dedicated to Folegandros, is under development. However, all trails are already included in the cartographic application topoguide Greece, available for both Android and iOS (iPhone και iPad) devices.