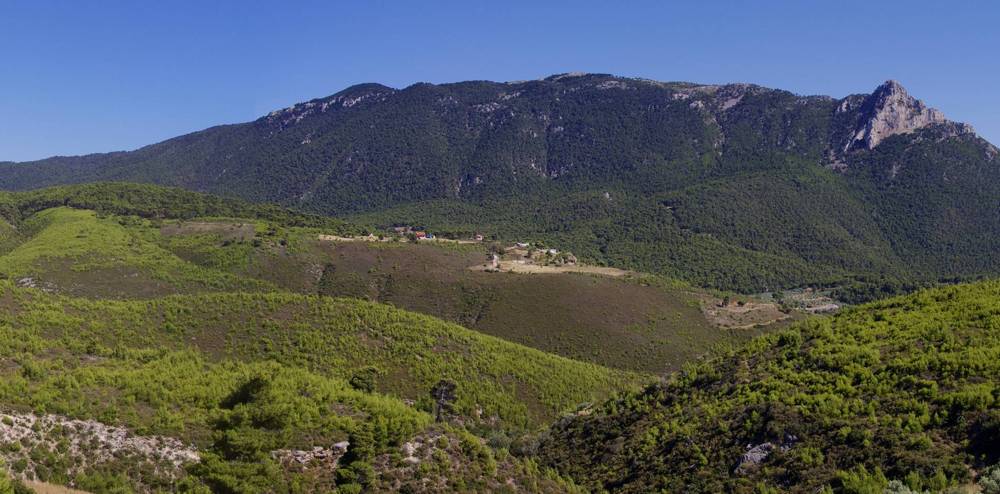 Geraneia Mts. (highest peak Makryplagi, 1.351m) extend from Megara city to Loutraki, reaching with lower hills the Melagkavi Akrotiri. The name of the mountain comes, according to Greek mythology, from the crane birds, as Megaros, son of Zeus, in order to save himself, swam to the tops of the mountain, guided from the cries of the cranes flying above it.

Geraneia Mts. are surrounded by the Saronic Gulf, the Corinthian Gulf and the Alkyonis Gulf. It is covered with pine trees whereas the higher zone is covered by Greek firs. The shrubby vegetation is rich and 950 species and subspecies of plants have been recorded, many of them are rare or endemic to Greece or Attica, like the endangered local endemic Centaurea attica ssp. megarensis, the population of which is small and scattered. The area is part of the European Network of Protected Areas (Natura 2000).
Apart from the main massif, other interesting areas are the archaeological site of Heraion, the numerous monasteries near Loutraki and Melagavi Lighthouse.
The Loutraki Alpine Club has signposted an interesting network of hiking paths.
The best companion to discover Geraneia Mts the application Geraneia topoguide, a complete exploring and hiking guide for the area.

Geraneia topoguide is one of the 75 regions covered by the topoguide Greece hiking app. topoguide Greece is available for Android devices as well as for iOS devices (iPhone and iPad) by AnaDigit.

The guide offers an extended introduction on the geography, the nature and the history of the area.

Geraneia topoguide includes data, photos, POIs and descriptions for 29 hiking routes. Once in the field, the application identifies the nearest routes and offers the user active navigation.