Discover Mt Parnassos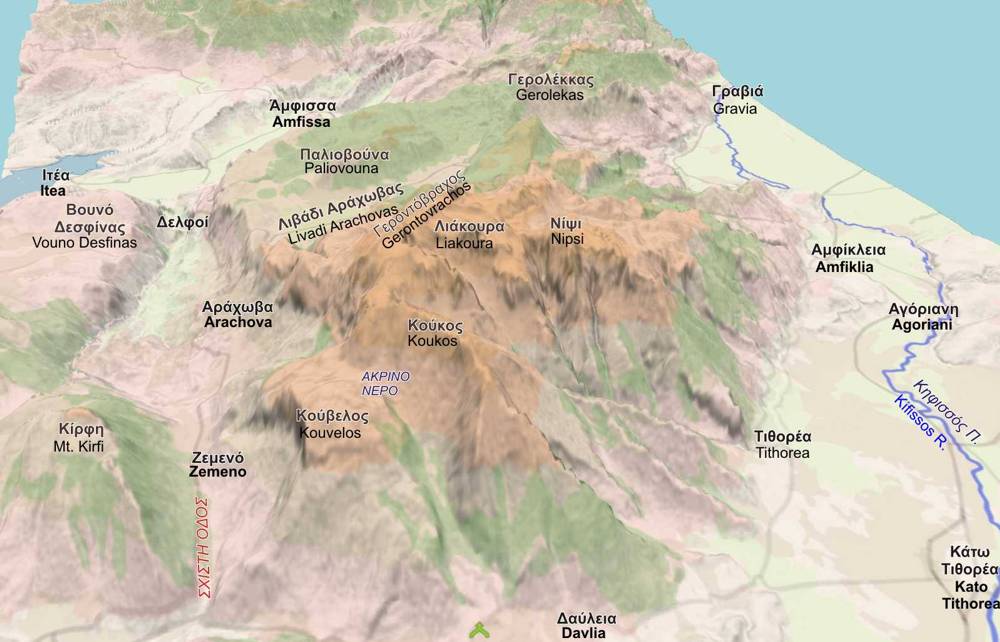 Mt. Parnassos (also known as mount Parnassus or Parnasos) rises its 2,457 m between the valley of Boeotian Kifissos and the recession of Amfissa and is the last major ring of Pindos mountain chain, before it breaks into smaller mountains in the south. In the northwest the mountain is connected to Giona on the Ambliani col, best known today as the "51 Km Pass", from the milleage reading of the (old) road connecting Lamia to Amfissa. In the south, after the step of the huge cliffs of Kouvelos, Mt. Parnassos touches Mt. Kirfi over the Zemeno Pass. To the SE, the mountain lowers by a series of hills and meets the northern offshoots of Mt. Elikon. To the east and west, Mt. Parnassos falls sharply in the tectonic basins Kifissos and Amfissa, revealing its rugged limestone core by the means of impressive cliffs.

The west-facing slopes of Mt. Parnassos hosted the important site of Delphi, the sanctuary of Apollo. In modern times, Mt. Parnassos natural resources gave growth to a dynamic rural economy, based on the town of Arachova (or Arahova). Recently, two of the most important ski resorts of Greece, Kelaria and Fterolaka (Chionodromiko Parnassos), were developed in the upper zone of the mountain.
A number of large but shallow karst bassins in the middle of ​​the mountain, arranged in a S/N direction, divide Mt. Parnassos into two distinct massifs: the winding and wooded Western Parnassos and the taller, more rugged and bare Eastern Parnassos. Along this virtually dividing line passes the main road axis comming from Arachova, crossing the Livadi Arahova plateau and descending into Agoriani and the valley of Kifissos River.
Some hundreds kilometers of paths run around the mountain and a good part of them are waymarked under either E4 European Trail or O22 National Trail status, or included in local trail networks.

The most comprehensive hiking guide for Mt. Parnassos is the application Parnassos topoguide, available for both Android and iOS (iPhone and iPad) devices.

Parnassos topoguide is a digital touring guide for Mt. Parnassos, that focuses on hiking and biking and includes off-line maps, descriptions and photos. The application includes 33 hiking routes, 6 nature discovery trails, 7 MTB routes and 4 mountain running races.